Facebook is working on lots of changes in 2020-2021. Recently, I received message that "facebook will now let users transfer their notes and posts to Google Docs, Blogger and WordPress.com, expanding its data portability tool." Other news I received is: "Facebook joins Twitter and Microsoft in saying its staff can work from home after pandemic." Facebook has launched secure data transfer features from Facebook to WordPress.com site.
As a WordPress developer, I was curious to work with new Facebook feature. I am using both paid and free versions of WordPress.com site and I would like to share difference between both the versions and some facts behind this so called feature. I hope this information will help for most WordPress and Facebook users.
How to import posts from Facebook to WordPress?
All content imported from Facebook will be stored as a draft and to publish you need to visit 'All Post' in WordPress Dashboard. If you want to see how you can import posts from Facebook, you can visit It's official site. See How to import?
WordPress users can transfer text data, audio, video, you can add post with drag and drop feature, also edit your posts.from Facebook, but free wordpress users may face some limitations for free wordpress users. Of course yes, "There is no free lunch.." offers.
1. Video Import
Video imports are supported with the WordPress.com Premium and higher plans.
VideoPress Requirements and Specifications
File Type
VideoPress supports MP4 (.mp4, .m4v), QuickTime movies (.mov), Windows Media Video (.wmv), Audio Video Interleave (.avi), MPEG (.mpg), Ogg (.ogv), 3GPP (.3gp) and 3GPP2 (.3g2).
File Size Limit
VideoPress supports file size upto 1 GB. It may work well upto 2 GB but It will not support file size more than 2GB.
Video Storage
Video storage for Premium user will allow 13 GB and for Business plan and eCommerce plan with plugin installed, you can upload unlimited videos. There is no storage limit.
2. Can't import links?
As per the official document of WordPress, you can import links only with text format. Only posts that include written text (in addition to the shared link) are exported by Facebook.
3. Facebook Posts
Facebook posts import will be slightly different from standard post. By default post layout will remain standard based on applied theme. But you can change it with different layout. It will support many different styles of posts. To make post change you need to follow below steps. Non technical person may feel some stress initially, you can get help of WordPress developers. See how you can change the layout settings for posts. For WordPress developers it will not so hard to do.
Go to Dashboard > All posts
Edit a post, or click Add New to create a new post.
Under Document settings on the right, open the Status & Visibility menu.
Select an option from the drop down in Post Format.
Either Publish or Update your post to see the new Post Format applied.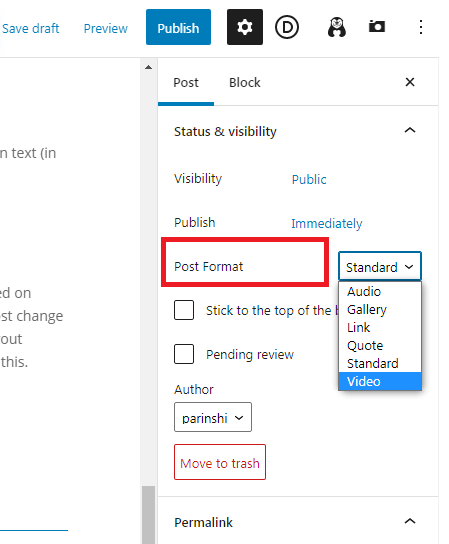 Conclusion
Facebook has launched secure and best feature to save users data like posts, videos, audio using Google Doc, WordPress. Users can use this feature by applying Facebook settings and WordPress settings.
Dhruvanshi Maharshi
Freelance Full Stack Developer